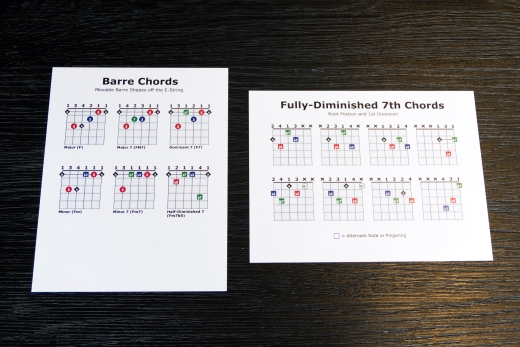 CHORDS PACK
Know the chords that every guitarist needs. These crucial chords prepare you to play songs and jam with your friends without looking up chord shapes.
Bored of using the same chords over and over? Learn 7th chords, new shapes off of the D and G strings, and chord voicings commonly used in jazz.
Duplicate chord sheets with the intervals shown for each note allow advanced students to manipulate chords they've learned by simply changing one or two notes.
38 Sheets
BUY NOW $12.00
Complete File List
∙ 38 Sheets
∙ How to Read Chords (1)
∙ Open Chords (6)
∙ Barre Chords (8)
∙ D and G Chords (4)
∙ Intro to Jazz 7th Chords (4)
∙ Power Chords (10)
∙ Sixth Chords (1)
∙ Slash and Suspended Chords (4)
∙ *BONUS* Individual Chord Sheets (72)
∙ *BONUS* Open Chord Variants (different fingerings to suit teacher preference) (48)
Open Chords – 6 Sheets
Open Chords – 7th Chords
Open Chords – Common
Open Chords – Supplementary
Open Chords – 7th Chords – No Intervals
Open Chords – Common – No Intervals
Open Chords – Supplementary – No Intervals
Barre Chords – 8 Sheets
Barre Chords – Introduction – E String
Barre Chords – Introduction – A String
Barre Chords – Expanded – E String
Barre Chords – Expanded – A String
Barre Chords – Introduction – E String – No Intervals
Barre Chords – Introduction – A String – No Intervals
Barre Chords – Expanded – E String – No Intervals
Barre Chords – Expanded – A String – No Intervals
D and G String Chords – 4 Sheets
Upper String Chords – D String
Upper String Chords – G String
F and B Movable Chords
F and B Movable Chords – No Intervals
Intro to Jazz 7th Chords – 4 Sheets
Jazz 7th Chords – E String
Jazz 7th Chords – A String
Jazz 7th Chords – Added Notes – E String
Jazz 7th Chords – Added Notes – A String
Power Chords – 10 Sheets
Open Power Chords
Power Chords
Power Chords (Two Finger)
Power Chords Expanded
Octave Chords
Open Power Chords – No Intervals
Power Chords – No Intervals
Power Chords (Two Finger) – No Intervals
Power Chords Expanded – No Intervals
Octave Chords – No Intervals
Sixth Chords – 1 Sheet
Sixth Chords
Slash and Suspended Chords – 4 Sheets
Slash Chords
Slash Chords – Progressions
Suspended Chords
Slash Chords – No Intervals
Individual Chords – 72 Sheets
7th Fret Chord Example
Barre – A String – B Dominant 7 Over F#
Barre – A String – B Dominant 7
Barre – A String – B Major – Muted D String
Barre – A String – B Major – Standard
Barre – A String – B Major – Alt Fingering
Barre – A String – B Major Over F# – Standard
Barre – A String – B Major Over F# – Alt Fingering
Barre – A String – B Minor Over F#
Barre – A String – B Minor
Barre – E String – F Dominant 7
Barre – E String – F Major
Barre – E String – F Minor
Barre – Just the Barre
Movable Chord – B Major
Movable Chord – B Minor
Movable Chord – F Major
Movable Chord – F Minor
Octave Chord – A String – B
Octave Chord – D String – E
Octave Chord – E String – F#
Octave Chord – G String – A
Open – A Dominant 7
Open – A Major – One Finger
Open – A Major – Three Finger – Variant 1
Open – A Major – Three Finger – Variant 2
Open – A Major – Three Finger – Variant 3
Open – A Minor 7
Open – A Minor Over G
Open – A Minor
Open – A Suspended 4 – Three Finger
Open – A Suspended 4 – Two Finger
Open – B Dominant 7
Open – C add 9 – Intervals
Open – C add 9
Open – C Dominant 7
Open – C Major 7
Open – C Major Over B
Open – C Major Over G
Open – C Major
Open – D Dominant 7
Open – D Major Over F#
Open – D Major
Open – D Minor 7
Open – D Minor
Open – D Suspended 2 – Intervals
Open – D Suspended 2
Open – D Suspended 4 – Intervals
Open – D Suspended 4
Open – E Dominant 7
Open – E Major
Open – E Minor – Index and Middle
Open – E Minor – Middle and Ring
Open – E Minor 7
Open – F Major 7 Over C
Open – F Major 7
Open – G Dominant 7
Open – G Major – Four Finger
Open – G Major – Three Finger
Open – G Major – Three Finger – Alt Fingering
Open – G Major Over B
Open – G Major Over F#
Power Chord – A String – B5 – Full
Power Chord – A String – B5
Power Chord – D String – E5
Power Chord – Drop D – E5
Power Chord – E String – F5 – Full
Power Chord – E String – F5
Power Chord – G String – A5
Power Chord – Open A5
Power Chord – Open E5