HIGH-QUALITY AT ANY SIZE
These high-quality handouts benefit your lessons on multiple levels:
Clear and effective way to communicate concepts, shapes, and patterns to your student
Provide study-at-home notes for your students so they can easily remember how and what to practice at home
High-quality PDF handouts allow you to email your students notes instead of making copies or writing out notes
Multiple variants of handouts allow you to show more or less of the concept to your students based on their level of theory knowledge
Clear organization system allows quick browsing for lesson ideas for your students that wants to learn something new
Scalable PDF format allows you to teach effectively no matter the setting, whether private lessons or large groups
Your students' perception of your lessons' improves when they receive high-quality learning materials as part of the lesson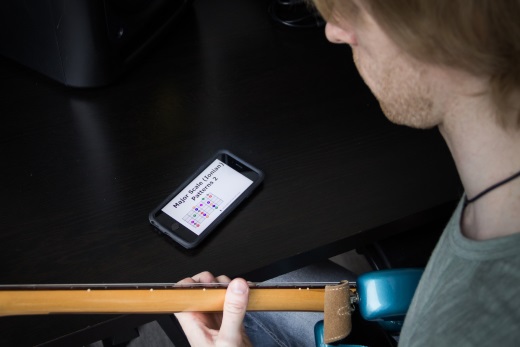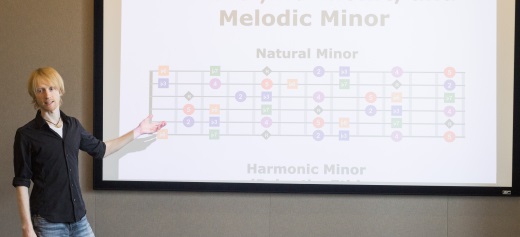 CREATE THE BEST IMPRESSION
Being prepared with top-notch teaching materials will make your students even more eager to learn since they know they're learning exactly what they need to know. You will be well-prepared to teach a wide range of beginner, intermediate, and advanced concepts. This makes you an even more competitive presence in your area.
You are making life easier for your students by giving them a high-resolution, clearly-labeled file with the information presented cleanly and consistently. The handouts are formatted for easy printing if your students like to keep a notebook of their notes, and clearly named digital files ensure your students can always easily find their backup.
SAVE TIME, MAKE MONEY
Good teaching materials should save you enough time to pay for themselves many times over. Here are just a few of the ways that these guitar lesson handouts will give you more time to spend on growing your business:
Having hundreds of pre-made handouts saves time in-lesson spent writing down chords or scales, greatly increasing the value you can deliver when teaching your students
These handouts were created over hundreds of hours by a guitar teacher just like you. These pre-made handouts save you that valuable time which could be used to teach or find new students
Your students will greatly appreciate having a clear and precise reminder of what they went over in class, saving the both of you the time of re-explaining what they needed to practice post-lesson
By having multiple handouts that emphasize different parts of what a student is learning, you save time that would be spent explaining what parts of the handout to focus on or ignore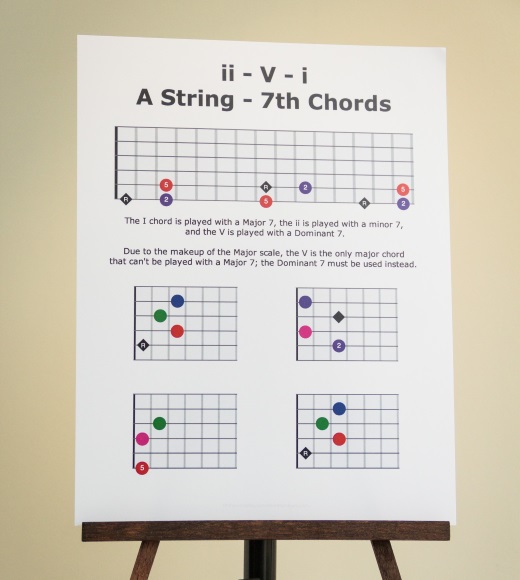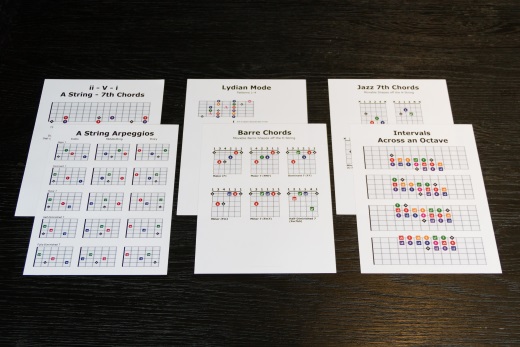 TOOLS FOR THE LONG TERM
These handouts have been created to grow with you and your lessons. Clear, colorful diagrams created in a scalable PDF format can be viewed on your laptop or tablet when you're traveling to students, on your monitor when teaching at home, or on a large screen or projector when you are teaching a group, with no loss in clarity.
The professional quality of pre-made, high-resolution handouts matches the expertise you bring to your instruction. You will feel great that you're giving your students the best materials available and making it easier for them practice with easy-to-read diagrams. Having the best teaching resources in town is a major sales point when acquiring new students.
CUSTOMIZE YOUR TEACHING
This package teaches over 50 concepts, covering the essential chords, scales, and concepts that will enable your students to gain mastery over the fretboard.
My experience as a teacher has shown me that though a few people do well with sheets that display the entire concept, most people need the concept communicated several ways and in individual steps.
For instance, if someone completely understands the theory of modes and is familiar with the seven diatonic patterns, it is possible to extrapolate from there the patterns and intervals for each of the modes.
Most people, however, seem to do better with separate sheets that show the different interval numbers for each of the modes even though the patterns are the same, and many people may get overwhelmed or confused when presented with multiple patterns at once.
To aid you in helping these students quickly and effectively, I have included sheets for each concept that present the information differently (such as different sheets for each mode) and other sheets that present the concept in bite-sized chunks (such as sheets that only have one pattern with no other information, or a sheet that shows one pattern with just the Major and minor roots).