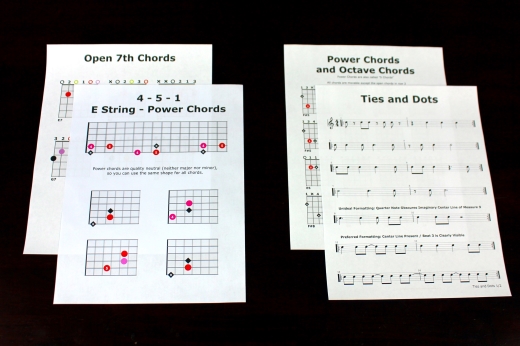 STUDENT BASIC BUNDLE
Essential Knowledge Every Guitarist Needs
A common issue among newer guitarists is holes in their knowledge. They'll play with a friend and be asked to play a scale or chord they don't recognize.
The handouts selected for the Student Basic Bundle fill in this knowledge. You will know the most important scales, rhythm patterns, and chords needed to play with your friends, create music on your own, and learn your favorite songs.
If you're brand new to guitar, this is the perfect complement to taking lessons, watching tutorials, and/or learning songs online.
57 Sheets + 62 MP3s
BUY NOW $5.00
Complete File List
What's Included:
∙ Audio Files (62)
∙ 57 Sheets
∙ How To Read Sheets (3)
∙ Chords (12)
∙ Strumming Sheets (16)
∙ Scale Pattern Sheets (6)
∙ Progressions (10)
∙ Intervals and Fret Names (10)
How to Read Sheets – 3 Sheets
How to Read Chords
How to Read Tab
How to Read Scales
Chords (Shapes Only, No intervals) – 12 Sheets
Barre Chords – Introduction – E String
Barre Chords – Introduction – A String
F and B Movable Chords
Open Chords – 7th Chords
Open Chords – Common
Open Power Chords
Power Chords
Power Chords (Two Finger)
Octave Chords
Slash Chords
Slash Chords – Progressions
Suspended Chords
Strumming (Single Note Notation) – 16 Sheets
Notation – Rhythm Notes
Notation – Rhythm Notes – British-English
Notation – Ties and Dots
Notation – Ties and Dots – British-English
8th Notes and Rests
8th Notes and Rests Strumming Key
Basic Walking Bass Examples
Country Strumming
Quarters, Halves, and Wholes
Quarters, Halves, and Wholes Strumming Key
Sixteenths
Sixteenths Strumming Key
Ties and Dots
Ties and Dots Strumming Key
Triplet Overview
Twelve Bar Blues
Scales (with minor and Major roots marked) – 6 Sheets
Blues Scales Patterns 1-5
Diatonic Scales Patterns 1-4
Diatonic Scales Patterns 5-7
Pentatonic Scales Patterns 1-5
Pentatonics in Diatonics 1 (Patterns 1-4)
Pentatonics in Diatonics 2 (Patterns 5-7)
Progressions – 10 Sheets
2 5 1 – Major – Barre Chords – E String
2 5 1 – Major – Barre Chords – A String
2 5 1 – Minor – Barre Chords – E String
2 5 1 – Minor – Barre Chords – A String
4 5 1 – Major – Barre Chords – E String
4 5 1 – Major – Barre Chords – A String
4 5 1 – Minor – Barre Chords – E String
4 5 1 – Minor – Barre Chords – A String
1 5 6 4 – Major – Barre Chords – E String
1 5 6 4 – Major – Barre Chords – A String
Intervals – 8 Sheets
Intervals – E String
Intervals – A String
Intervals – D String
Intervals – G String
Intervals – B String
Intervals – On a Single String
Intervals – Across The Fretboard
Intervals Chart
Fret Names – 2 Sheets
Fret Names – All Strings (Natural Notes)
Chromatic Notes – All Strings