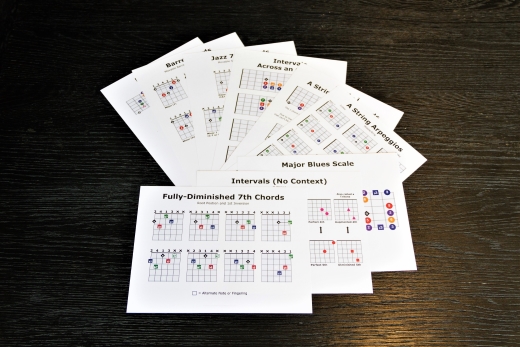 Digital handouts are easy to find and print

Clarity at any size!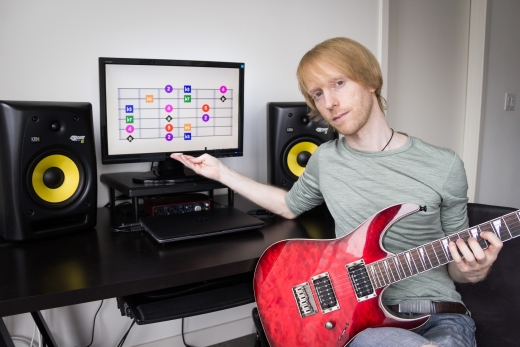 Files are clearly named and grouped by topic

Learn exciting skills to jam with your friends!
STUDENT DELUXE BUNDLE
The handouts in this package are high-resolution, color-coordinated and clearly labeled.
No matter where you're at, this package likely has something for you. Learn progressions to create songs and accompany your friends, perfect your fretboard knowledge with intervals, fret names, and inverted chords, and learn scales and arpeggios to improve your soloing.
If you are able to master all the sheets in this package, you will be among the most learned guitarists in the areas of fretboard navigation and practical theory knowledge.
153 Sheets + 62 Mp3s
BUY NOW $15.00
Complete File List
What's Included:
∙ Audio Files (62)
∙ 153 Sheets
∙ Arpeggios (7)
∙ Progressions (20)
∙ Scales (33)
∙ Fret Names (8)
∙ String Relationships (4)
∙ Natural Harmonics (3)
∙ Intervals (20)
∙ Chords (40)
∙ Strumming (17)
Arpeggios – 7 Sheets
First Octave – E String
First Octave – A String
Second Octave – D String
Second Octave – G String
Four String Arpeggios
Two String Arpeggios – E A D
Two String Arpeggios – G B
Progressions – 20 Sheets
2 5 1 – Major – 7th Chords – E String
2 5 1 – Major – 7th Chords – A String
2 5 1 – Major – Barre Chords – E String
2 5 1 – Major – Barre Chords – A String
2 5 1 – Minor – 7th Chords – E String
2 5 1 – Minor – 7th Chords – A String
2 5 1 – Minor – Barre Chords – E String
2 5 1 – Minor – Barre Chords – A String
4 5 1 – Major – Barre Chords – E String
4 5 1 – Major – Barre Chords – A String
4 5 1 – Minor – Barre Chords – E String
4 5 1 – Minor – Barre Chords – A String
1 5 6 4 – Major – Barre Chords – E String
1 5 6 4 – Major – Barre Chords – A String
1 3 4 7 – Major – Barre Chords – E String
1 3 4 7 – Major – Barre Chords – A String
1 3 4 5 – Minor – Barre Chords – E String
1 3 4 5 – Minor – Barre Chords – A String
1 7 6 5 – Minor – Barre Chords – E String
7 6 5 1 – Minor – Barre Chords – A String
Scales (with minor and Major roots marked) – 33 Sheets
How to Read Scale Patterns
Blues Scales – Roots – Patterns 1-5
Blues Scales – Major – Patterns 1-5
Blues Scales – Minor – Patterns 1-5
Blues Scales – Major – Full Fretboard
Blues Scales – Minor – Full Fretboard
Diatonic Scales – Roots – Patterns 1-4
Diatonic Scales – Roots – Patterns 5-7
Diatonic Scales – Major – Patterns 1-4
Diatonic Scales – Major – Patterns 5-7
Diatonic Scales – Minor – Patterns 1-4
Diatonic Scales – Minor – Patterns 5-7
Harmonic Minor – Patterns 1-4
Harmonic Minor – Patterns 5-7
Melodic Minor – Patterns 1-4
Melodic Minor – Patterns 5-7
Dorian Mode – Patterns 1-4
Dorian Mode – Patterns 5-7
Phrygian Mode – Patterns 1-4
Phrygian Mode – Patterns 5-7
Lydian Mode – Patterns 1-4
Lydian Mode – Patterns 5-7
Mixolydian Mode – Patterns 1-4
Mixolydian Mode – Patterns 5-7
Locrian Mode – Patterns 1-4
Locrian Mode – Patterns 5-7
Modes (Theory Page)
Pentatonic Scale – Roots – Patterns 1-5
Pentatonic Scale– Major – Patterns 1-5
Pentatonic Scale – Minor – Patterns 1-5
Pentatonic Scale – Major – Full Fretboard
Pentatonic Scale – Minor – Full Fretboard
Pentatonics in Diatonics 1 (Patterns 1-4)
Pentatonics in Diatonics 2 (Patterns 5-7)
Natural Harmonics – 3 Sheets
Natural Harmonics Expanded
Natural Harmonics Expanded – Simplified
Natural Harmonics Intro
Fret Names – 10 Sheets
Fret Names – E String
Fret Names – A String
Fret Names – D String
Fret Names – G String
Fret Names – B String
Fret Names – All Strings
Chromatic Notes – A String
Chromatic Notes – All Strings
String Relationships – 4 Sheets
Octaves of Open Strings – Same String
Octaves of Open Strings – Different Strings
Refingering Guide
Tuning Notes
Intervals – 20 Sheets
Intervals Chart
Intervals Across an Octave
Intervals of a Root– E String
Intervals of a Root – A String
Intervals of a Root – D String
Intervals of a Root – G String
Intervals of a Root – B String
Intervals from a Root– E String
Intervals from a Root – A String
Intervals from a Root – D String
Intervals from a Root – G String
Intervals from a Root – B String
Intervals – Distance from a Root
Intervals – E String
Intervals – A String
Intervals – D String
Intervals – G String
Intervals – B String
Intervals – On a Single String
Intervals – Full Fretboard
Chords – 40 Sheets
How to Read Chords
Barre Chords – Introduction – E String
Barre Chords – Introduction – A String
Barre Chords – Expanded – E String
Barre Chords – Expanded – A String
F and B Movable Chords
Jazz 7th Chords – E String
Jazz 7th Chords – A String
Jazz 7th Chords – Added Notes – E String
Jazz 7th Chords – Added Notes – A String
Open Chords – 7th Chords
Open Chords – Common
Open Chords – Supplementary
Open Power Chords
Power Chords
Power Chords (Two Finger)
Power Chords Expanded
Octave Chords
Slash Chords
Slash Chords – Progressions
Seventh Chords and Inversions – Major – Root Position and 1st Inversion
Seventh Chords and Inversions – Major – 2nd Inversion and 3rd Inversion
Seventh Chords and Inversions – Dominant – Root Position and 1st Inversion
Seventh Chords and Inversions – Dominant – 2nd Inversion and 3rd Inversion
Seventh Chords and Inversions – Minor – Root Position and 1st Inversion
Seventh Chords and Inversions – Minor – 2nd Inversion and 3rd Inversion
Seventh Chords and Inversions – Half-Diminished – Root Position and 1st Inversion
Seventh Chords and Inversions – Half-Diminished – 2nd Inversion and 3rd Inversion
Seventh Chords and Inversions – Fully-Diminished – Root Position and 1st Inversion
Seventh Chords and Inversions – Fully-Diminished – 2nd Inversion and 3rd Inversion
Sixth Chords
Suspended Chords
Triad and Inversion Chords – Major
Triad and Inversion Chords – Minor
Triad and Inversion Chords – Diminished
Triad and Inversion Chords – Sus2
Triad and Inversion Chords – Sus4
Triad and Inversion Chords – Augmented
Upper String Chords – D String
Upper String Chords – G String
Strumming (Single Note Notation) – 17 Sheets
How to Read Tab
Notation – Rhythm Notes
Notation – Rhythm Notes – British-English
Notation – Ties and Dots
Notation – Ties and Dots – British-English
8th Notes and Rests
8th Notes and Rests Strumming Key
Basic Walking Bass Examples
Country Strumming
Quarters, Halves, and Wholes
Quarters, Halves, and Wholes Strumming Key
Sixteenths
Sixteenths Strumming Key
Ties and Dots
Ties and Dots Strumming Key
Triplet Overview
Twelve Bar Blues