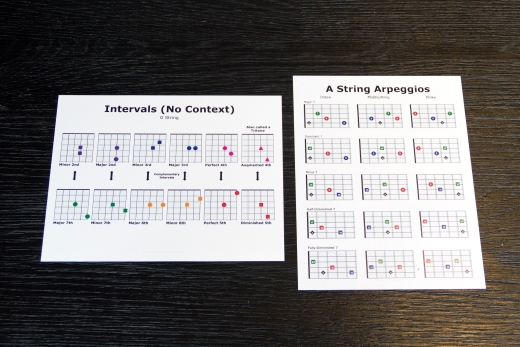 FRETBOARD KNOWLEDGE
Always know where you are on the neck and never miss another chord when sight-reading a song or jamming with others!
You will know the name of every fret on the fretboard, a chord for all common triad and 7th chords, and even inversions for each.
With arpeggio patterns for every chord quality and starting position, you will be equipped to play the sounds you hear in your head and to improve your soloing with a deeper knowledge of chord tones and where to play them.
72 Sheets
BUY NOW $12.00
Complete File List
∙ 72 Sheets
∙ Fretboard (Natural Notes) (8)
∙ Fretboard (Chromatic Notes) (6)
∙ String Relationships (4)
∙ Seventh Chords and Inversions (10)
∙ Natural Harmonics (10)
∙ Arpeggios (7)
∙ Triad Chords (6)
∙ Intervals (21)
Fretboard (Natural Notes) – 8 Sheets
Fret Names – A String (Natural Notes)
Fret Names – All Strings (Natural Notes)
Fret Names – B String (Natural Notes)
Fret Names – D String (Natural Notes)
Fret Names – D and G Strings (Natural Notes)
Fret Names – E String (Natural Notes)
Fret Names – E and A Strings (Natural Notes)
Fret Names – G String (Natural Notes)
Fretboard (Chromatic Notes) – 6 Sheets
Chromatic Notes – A String
Chromatic Notes – All Strings
Chromatic Notes – B String
Chromatic Notes – D String
Chromatic Notes – E String
Chromatic Notes – G String
String Relationships – 4 Sheets
Octaves of Open Strings – Different Strings
Octaves of Open Strings – Same String
Refingering Guide
Tuning Notes
Seventh Chords and Inversions – 10 Sheets
Seventh Chords and Inversions – Major – Root Position and 1st Inversion
Seventh Chords and Inversions – Major – 2nd Inversion and 3rd Inversion
Seventh Chords and Inversions – Dominant – Root Position and 1st Inversion
Seventh Chords and Inversions – Dominant – 2nd Inversion and 3rd Inversion
Seventh Chords and Inversions – Minor – Root Position and 1st Inversion
Seventh Chords and Inversions – Minor – 2nd Inversion and 3rd Inversion
Seventh Chords and Inversions – Half-Diminished – Root Position and 1st Inversion
Seventh Chords and Inversions – Half-Diminished – 2nd Inversion and 3rd Inversion
Seventh Chords and Inversions – Fully-Diminished – Root Position and 1st Inversion
Seventh Chords and Inversions – Fully-Diminished – 2nd Inversion and 3rd Inversion
Arpeggios – 7 sheets
Arpeggios – First Octave – E
Arpeggios – First Octave – A
Arpeggios – Second Octave – D
Arpeggios – Second Octave – G
Arpeggios – Two String – E A D
Arpeggios – Two String – G B
Arpeggios – Four String – E A D
Triad Chords – 6 Sheets
Triad and Inversion Chords – Major
Triad and Inversion Chords – Minor
Triad and Inversion Chords – Diminished
Triad and Inversion Chords – Sus2
Triad and Inversion Chords – Sus4
Triad and Inversion Chords – Augmented
Natural Harmonics – 10 sheets
Natural Harmonics Expanded – Intervals
Natural Harmonics Expanded – Positions
Natural Harmonics Expanded – Titles – Positions
Natural Harmonics Expanded – Titles – Intervals
Natural Harmonics Expanded – Simplified – Intervals
Natural Harmonics Expanded – Simplified – Positions
Natural Harmonics Expanded – Simplified – Titles – Positions
Natural Harmonics Expanded – Simplified – Titles – Intervals
Natural Harmonics Intro – Intervals
Natural Harmonics Intro – Positions
Intervals – 21 sheets
Intervals – Across an Octave in C
Intervals – Across an Octave
Intervals – Across the Fretboard
Intervals – Distance from a Root
Intervals – No Context – A String
Intervals – No Context – B String
Intervals – No Context – D String
Intervals – No Context – E String
Intervals – No Context – G String
Intervals – On A Single String
Intervals from a Root – A String
Intervals from a Root – B String
Intervals from a Root – D String
Intervals from a Root – E String
Intervals from a Root – G String
Intervals of a Root – A String
Intervals of a Root – B String
Intervals of a Root – D String
Intervals of a Root – E String
Intervals of a Root – G String
Intervals Chart