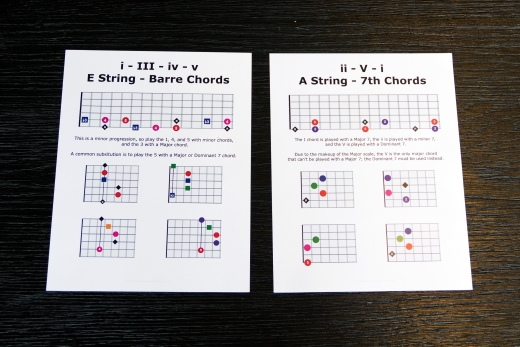 PROGRESSIONS PACK
The progressions pack will walk you through the root position, power chord, and barre chord patterns for eight useful chord progressions.
This includes one of the most popular and successful progressions in modern music, the I-V-vi-IV progression.
These progressions also teach you all possible diatonic chords in Major and minor keys. Use the progressions outright or combine parts of them to make your own songs!
You will always be able to back up your friends when jamming, no matter what key you're playing in.!
50 Sheets
BUY NOW $12.00
Complete File List
What's Included:
∙ 50 Sheets
∙ Four Major Progressions
∙ Four Minor Progressions
∙ Progressions on Single Strings and Between E and A
∙ Progressions with Barre Chords and Power Chords
∙ 2 5 1 Progressions with 7th Chords
Progressions Basics – 6 sheets
2 5 1 – Roots – E and A
2 5 1 – Roots – Single String
4 5 1 – Power Chords – A String Root
4 5 1 – Power Chords – E String Root
4 5 1 – Roots – E and A
4 5 1 – Roots – Single String
Major Progressions – 22 sheets
2 5 1 – Major – 7th Chords – E String
2 5 1 – Major – 7th Chords – A String
2 5 1 – Major – Barre Chords – E String
2 5 1 – Major – Barre Chords – A String
2 5 1 – Major – Power Chords – E String
2 5 1 – Major – Power Chords – A String
4 5 1 – Major – Barre Chords – E String
4 5 1 – Major – Barre Chords – A String
1 5 6 4 – Major – Barre Chords – E String
1 5 6 4 – Major – Barre Chords – A String
1 5 6 4 – Major – Power Chords – E String
1 5 6 4 – Major – Power Chords – A String
1 5 6 4 – Major – Roots – E String
1 5 6 4 – Major – Roots – A String
1 5 6 4 – Major – Roots – Single String
1 3 4 7 – Major – Barre Chords – E String
1 3 4 7 – Major – Barre Chords – A String
1 3 4 7 – Major – Power Chords – E String
1 3 4 7 – Major – Power Chords – A String
1 3 4 7 – Major – Roots – E String
1 3 4 7 – Major – Roots – A String
1 3 4 7 – Major – Roots – Single String
Minor Progressions – 22 sheets
2 5 1 – Minor – 7th Chords – E String
2 5 1 – Minor – 7th Chords – A String
2 5 1 – Minor – Barre Chords – E String
2 5 1 – Minor – Barre Chords – A String
2 5 1 – Minor – Power Chords – E String
2 5 1 – Minor – Power Chords – A String
4 5 1 – Minor – Barre Chords – E String
4 5 1 – Minor – Barre Chords – A String
1 3 4 5 – Minor – Barre Chords – E String
1 3 4 5 – Minor – Barre Chords – A String
1 3 4 5 – Minor – Power Chords – E String
1 3 4 5 – Minor – Power Chords – A String
1 3 4 5 – Minor – Roots – E String
1 3 4 5 – Minor – Roots – A String
1 3 4 5 – Minor – Roots – Single String
1 7 6 5 – Minor – Barre Chords – E String
1 7 6 5 – Minor – Barre Chords – A String
1 7 6 5 – Minor – Power Chords – E String
1 7 6 5 – Minor – Power Chords – A String
1 7 6 5 – Minor – Roots – E String
1 7 6 5 – Minor – Roots – A String
1 7 6 5 – Minor – Roots – Single String