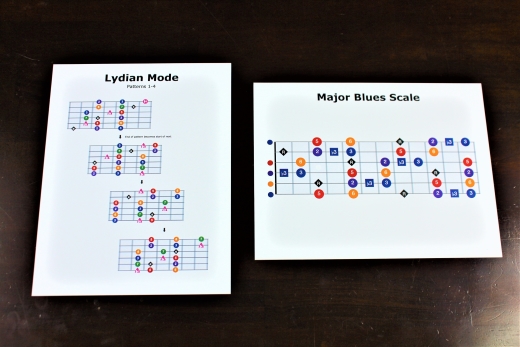 SCALES PACK
This package teaches the most important and commonly used scales in music and the scale patterns that every guitarist should know.
Soon you will see these patterns everywhere, particularly the solos of your favorite players.
This pack will help you branch out from the pentatonic scale to the diatonic scale and its harmonic and melodic minor variants.
As you get more advanced and want to explore more complex and unique sounds with modal solos, the sheets in this package will show you how to use patterns you already know to play in modes by showing you how the interval names change.
77 Sheets
BUY NOW $12.00
Complete File List
What's Included:
∙ 77 Sheets
∙ How to Read Scales
∙ Pentatonic and Blues Scale Patterns
∙ Diatonic Patterns (3-Notes per String)
∙ Harmonic and Melodic Minor Patterns
∙ All Seven Diatonic Modes
∙ Sheets Showing the Differences Between Pentatonic and Diatonic
Pentatonic and Blues Scales– 32 Sheets
Blues Scale – Beginner – Pattern 1
Blues Scale – Beginner – Pattern 2
Blues Scale – Beginner – Pattern 3
Blues Scale – Beginner – Pattern 4
Blues Scale – Beginner – Pattern 5
Blues Scale – Beginner – Patterns 1-5
Blues Scale – Roots – Pattern 1
Blues Scale – Roots – Pattern 2
Blues Scale – Roots – Pattern 3
Blues Scale – Roots – Pattern 4
Blues Scale – Roots – Pattern 5
Blues Scales – Roots – Patterns 1-5
Blues Scales – Major – Patterns 1-5
Blues Scales – Major – Full Fretboard
Blues Scales – Minor – Patterns 1-5
Blues Scales – Minor – Full Fretboard
Pentatonic Scale – Beginner – Pattern 1
Pentatonic Scale – Beginner – Pattern 2
Pentatonic Scale – Beginner – Pattern 3
Pentatonic Scale – Beginner – Pattern 4
Pentatonic Scale – Beginner – Pattern 5
Pentatonic Scale – Beginner – Patterns 1-5
Pentatonic Scale – Roots – Pattern 1
Pentatonic Scale – Roots – Pattern 2
Pentatonic Scale – Roots – Pattern 3
Pentatonic Scale – Roots – Pattern 4
Pentatonic Scale – Roots – Pattern 5
Pentatonic Scale – Roots – Patterns 1-5
Pentatonic Scale – Major – Patterns 1-5
Pentatonic Scale – Major – Full Fretboard
Pentatonic Scale – Minor – Patterns 1-5
Pentatonic Scale – Minor – Full Fretboard
Diatonic Scale – 22 Sheets
Diatonic Scale – Beginner – Pattern 1
Diatonic Scale – Beginner – Pattern 2
Diatonic Scale – Beginner – Pattern 3
Diatonic Scale – Beginner – Pattern 4
Diatonic Scale – Beginner – Pattern 5
Diatonic Scale – Beginner – Pattern 6
Diatonic Scale – Beginner – Pattern 7
Diatonic Scale – Beginner – Patterns 1-4
Diatonic Scale – Beginner – Patterns 5-7
Diatonic Scale – Roots – Pattern 1
Diatonic Scale – Roots – Pattern 2
Diatonic Scale – Roots – Pattern 3
Diatonic Scale – Roots – Pattern 4
Diatonic Scale – Roots – Pattern 5
Diatonic Scale – Roots – Pattern 6
Diatonic Scale – Roots – Pattern 7
Diatonic Scales – Roots – Patterns 1-4
Diatonic Scales – Roots – Patterns 5-7
Diatonic Scales – Major – Patterns 1-4
Diatonic Scales – Major – Patterns 5-7
Diatonic Scales – Minor – Patterns 1-4
Diatonic Scales – Minor – Patterns 5-7
Harmonic and Melodic Minor Scales – 5 Sheets
Harmonic – Melodic – Natural Minors
Harmonic Minor – Patterns 1-4
Harmonic Minor – Patterns 5-7
Melodic Minor – Patterns 1-4
Melodic Minor – Patterns 5-7
Modes – 12 Sheets
Dorian Mode – Patterns 1-4
Dorian Mode – Patterns 5-7
Phrygian Mode – Patterns 1-4
Phrygian Mode – Patterns 5-7
Lydian Mode – Patterns 1-4
Lydian Mode – Patterns 5-7
Mixolydian Mode – Patterns 1-4
Mixolydian Mode – Patterns 5-7
Locrian Mode – Patterns 1-4
Locrian Mode – Patterns 5-7
Modes – Roots – Patterns 1-4
Modes – Roots – Patterns 5-7
Modes (Theory Sheet)
Diatonic and Pentatonic Comparisons – 4 Sheets
Diatonic to Pentatonic – Major
Diatonic to Pentatonic – Minor
Pentatonics in Diatonics 1 (Patterns 1-4)
Pentatonics in Diatonics 2 (Patterns 5-7)