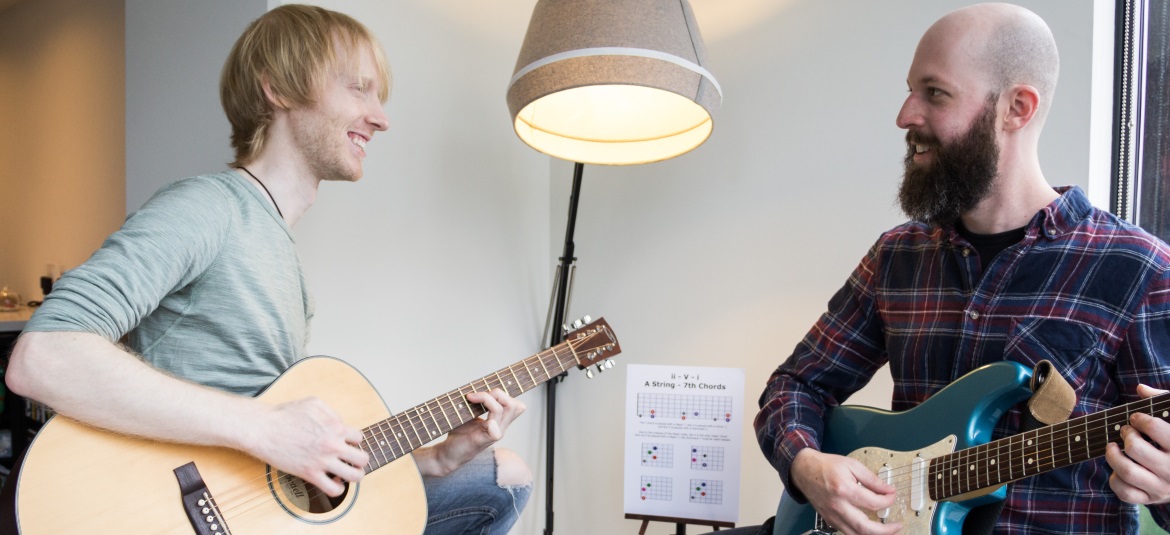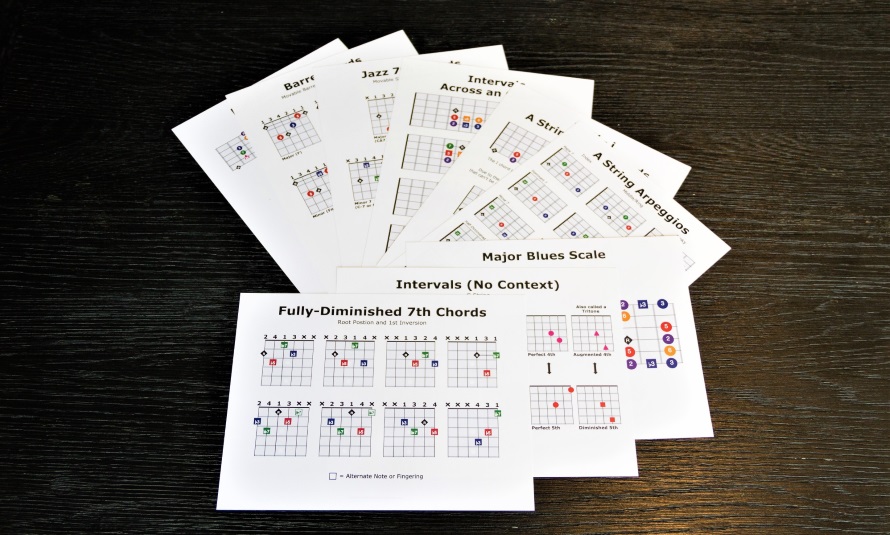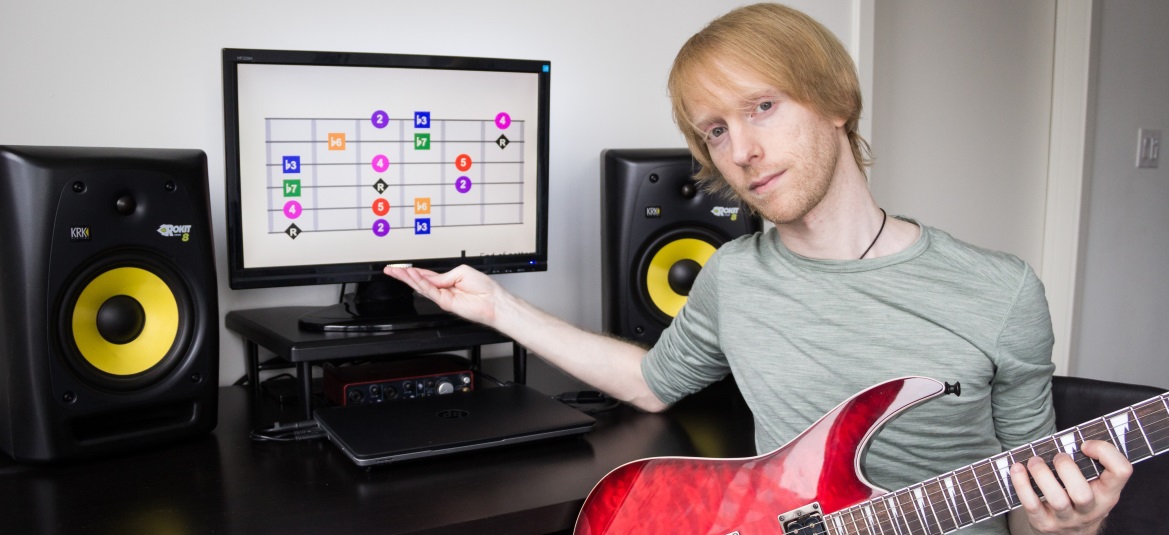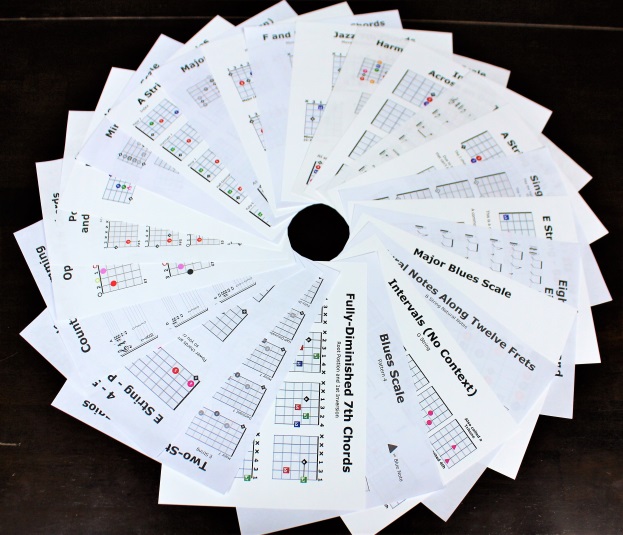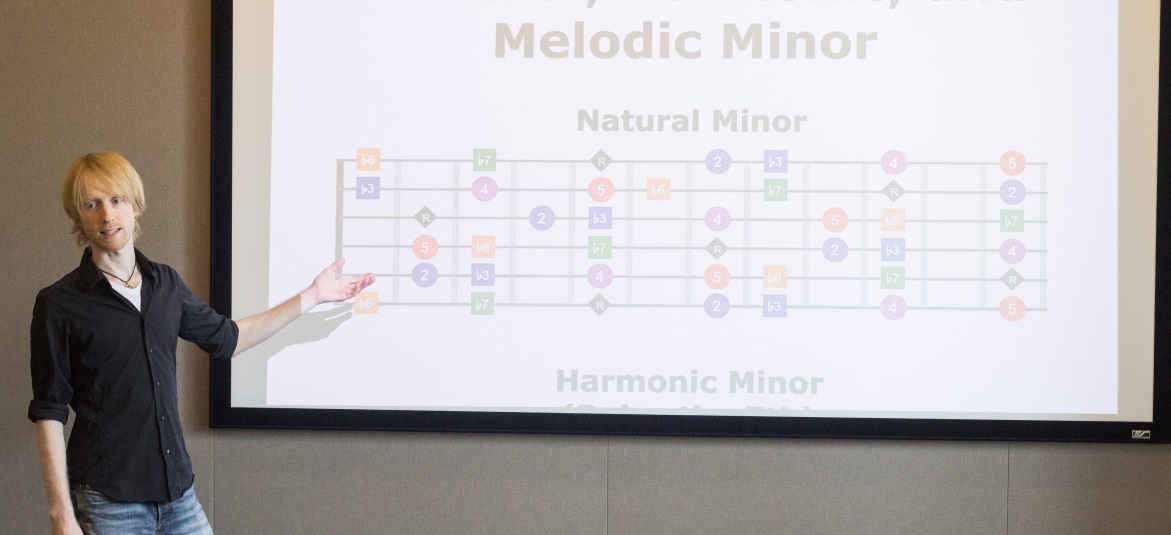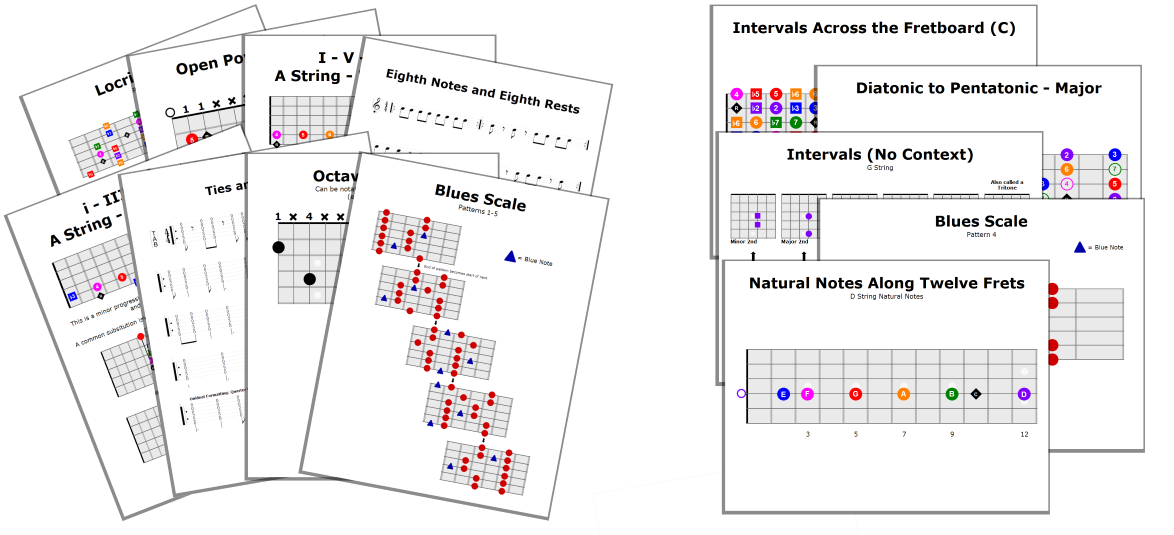 HIGH-QUALITY VISUAL AIDS
FOR TEACHERS & SELF-STUDY
SUCCINCT AND CLEAR DIAGRAMS
This handout package contains visual diagrams and references for scales, chords, fretboard knowledge, progressions, strumming, and more.
With over 300 handouts (in the Teacher Bundle) covering the most common beginner, intermediate, and even advanced concepts, you will never have to worry about not having a handy reference to teach off of and send home with your students.
All handouts are unified with a color scheme that links all the information together (black for the root, blue for thirds, etc.). Intervals are shown with consistent styling that makes them easy to grasp and recognize from concept to concept (roots are diamonds, perfect and major intervals are circles, and minor and diminished intervals are squares).
Each handout has several variants for your particular style of teaching. For instance, the open chord sheet has several variations showing the different ways to play G. Many handouts are available both with the intervals of each chord and scale shown and in a simplified, beginner version with just the finger placements given. (Handouts in Essentials do not have intervals labeled.)
For more samples and accompanying lessons, visit the blog!
BUNDLES
BASIC STUDENT

$5.00

57 Sheets Total

45 Common Chord Shapes Including Barre, Open, and Power Chords
17 Essential Scale Patterns (Pentatonic/Blues and Diatonic)
5 Popular Progressions Using Barre Chords
Arpeggios Not Included

DELUXE STUDENT

$15.00

153 Sheets Total
Includes all Basic Student Content
Adds Triad, 7th Chords and Inversions, and Common Jazz Voicings
Adds All Patterns for All 7 Modes and Harmonic & Melodic Scales
Adds 3 Useful Progressions Using Barre Chords
2, 3, and 4-String Arpeggios for Five Chord Qualities
TEACHER

$25.00

370 Sheets Total
Includes all Deluxe Student Content
Adds Individual Chord Sheets and Alternate Fingerings
Adds Individual Pattern Sheets for All Scales and Patterns
Adds Sheets Showing Roots, Power Chords, and Full Barre Progressions
Everything a Guitar Teacher Could Need